Day 1: Las Vegas→Antelope Canyon→Horseshoe Bay→Lake Powell
Please see detailed pickup and starting point information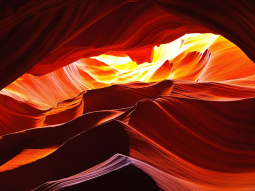 Antelope Canyon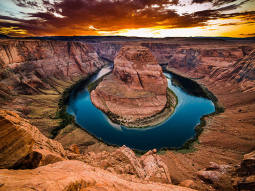 Horseshoe Bend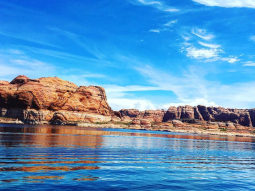 Lake Powell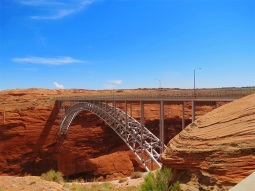 Glen Canyon Dam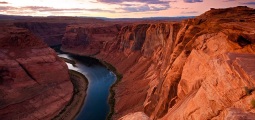 Colorado River
After breakfast, drive to Peggy City Arizona, we will go to the Horseshoe Bay first, Horseshoe Bay (tour time not less than 30 minutes) is the Colorado River in Arizona with a U shaped channel, because of the surrounded rock shape by the river shaped like horseshoe bend, so it was named "horseshoe bay".
At 12 o'clock(From 3/1/2020,enter between 10:00am-2:00pm), visit the slit canyon in the world famous Upper Antelope Canyon (tour time not less than 1 hour), by the local Indian Aboriginal wizard driving convertible Jeep to take you on the beauty inside and outside the canyon, and guide you to leave countless and memorable pictures, make you have a worthwhile trip.
Then we go to the Lake Powell pier, the second largest artificial lake in the United States. It's in the Grand Canyon National Recreational Area, a lake named after the Explorer John Wesley Powell. Lake Powell is the second largest man-made lake in the United states, covers an area of 65 thousand hectares, 170 meters deep, 300 kilometers long, it's the reservoir of the Colorado River, built for the Grand Canyon dam. With the beautiful scenery and majestic atmosphere, it is magnificent. If you take part in a cruise project, simply eat some simple meals on board, if the guest does not participate in the cruise project, you can eat slowly, drink a cup of coffee, take a walk by the lake after lunch and take photos, this activity will take 1 hour, and after the boat guests returned to the docks, we will leave as a group.
Williams/DaysInn Flagstaff 或 Page or the same level
Things to Know

At 12 noon, enter the Upper Antelope Canyon, master the best shooting light,From 3/1/2020,enter between 10:00am-2:00pm
Lake Powell own expense trip must have 60% guest from the whole group to create the trip